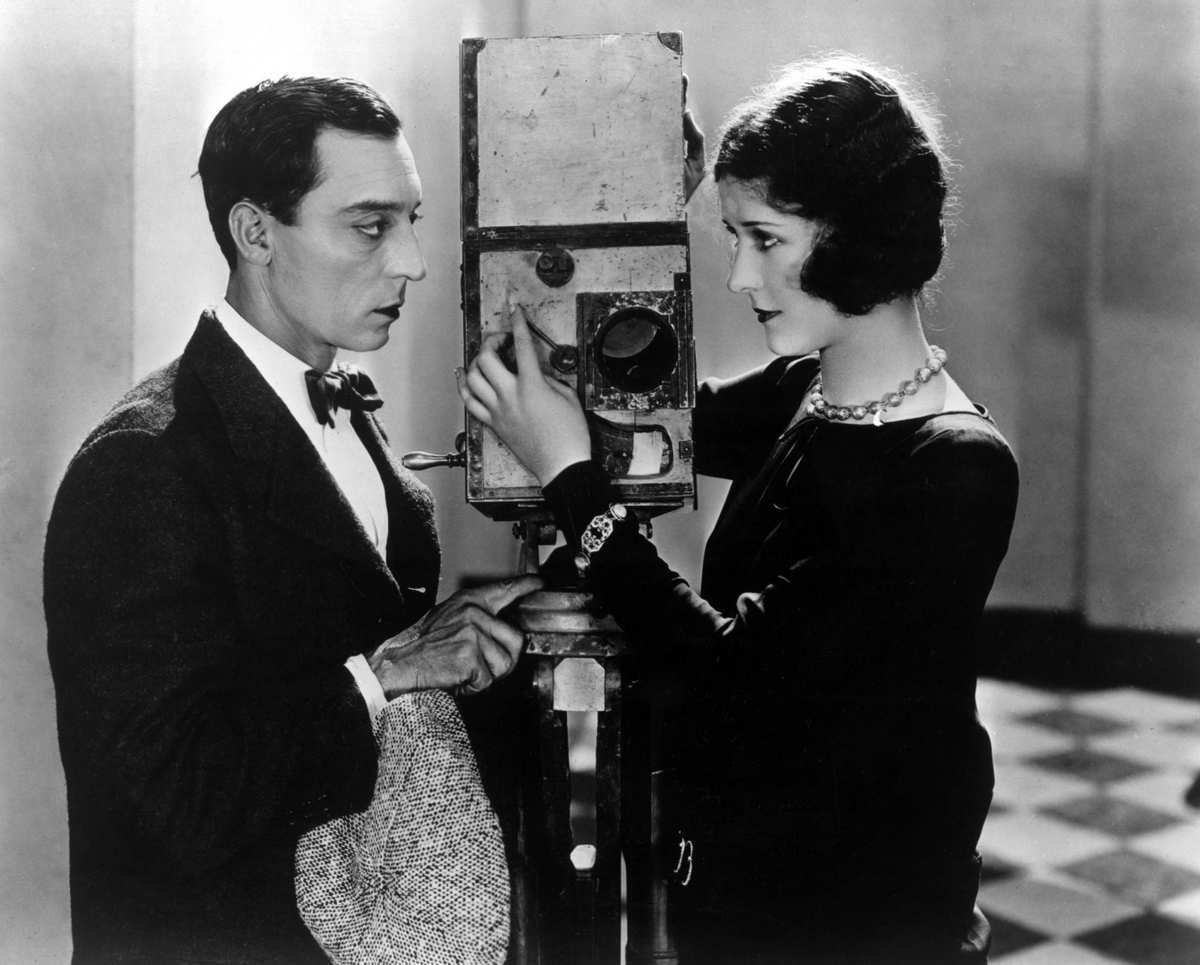 In New York, Buster (Keaton) is a public photographer. You can get your picture taken for a dime.
While he is taking a picture, a big parade takes place: many people gather and amongst them, Sally (Marceline Day) a young woman who works for the News department at the MGM. The crowd is so big that he is pressed against her, smelling her perfume...
After the crowd disappears, he offers to take her picture. She agrees but has to go leaving him with her photograph.
When he visits her at work, he decides to be a cameraman... Then he will be able to see her anytime!
But you do not become a cameraman just like that: you have to learn how to do it.
First, it is an expensive job: he has to buy a camera. Even if he gets the cheapest one, he has not got any money left.
Then you have to move the handle the right way: this gives a sequence where you can images moving forwards and backwards, an overprinted ship in a street, and a sequence where the picture is multiplied. A very surrealistic movie which does not please the MGM News director.
But Sally still encourages him to go on. She even accepts a date with him. But things do not work as expected.
Still, she gives him a last chance : go and film the Chinese New Year.
You can guess how it will end...
This film is Keaton's penultimate movie. The talkies are coming: The Jazz Singer was released by the Warner Bros Company. This is Keaton's swan song.
There is much melancholy, and even sadness in this story. Everything falls apart. Anything he tries is a failure. Even when he wants to end it all and go back to tintypes (he sends his last film to the studio) : instead of being mocked, he is hired!
Nevertheless, this film contains great scenes: the stairs, the swimming-pool, the Tong war...
Moreover, Keaton teaches us a great reporting lesson: he show us how things work behind the scene. He even rearranges the fights during the Tong war (nobody does that...), but still close to the fighters, risking his own life!
As I said earlier, it is his swan song. Kea ton will be less and less important in the film industry. And the last sequence has something prophetic in it: the film ends where it started, with a big parade which he thinks has been organized for him!
But this was the day Lindbergh was celebrated after he crossed the Atlantic Ocean.
His next movie will be Spite Marriage. Sadness and melancholy will be stronger.
Meanwhile, let us enjoy this movie as it is: a very fine comedy, one of Keaton's best.
So, enjoy!