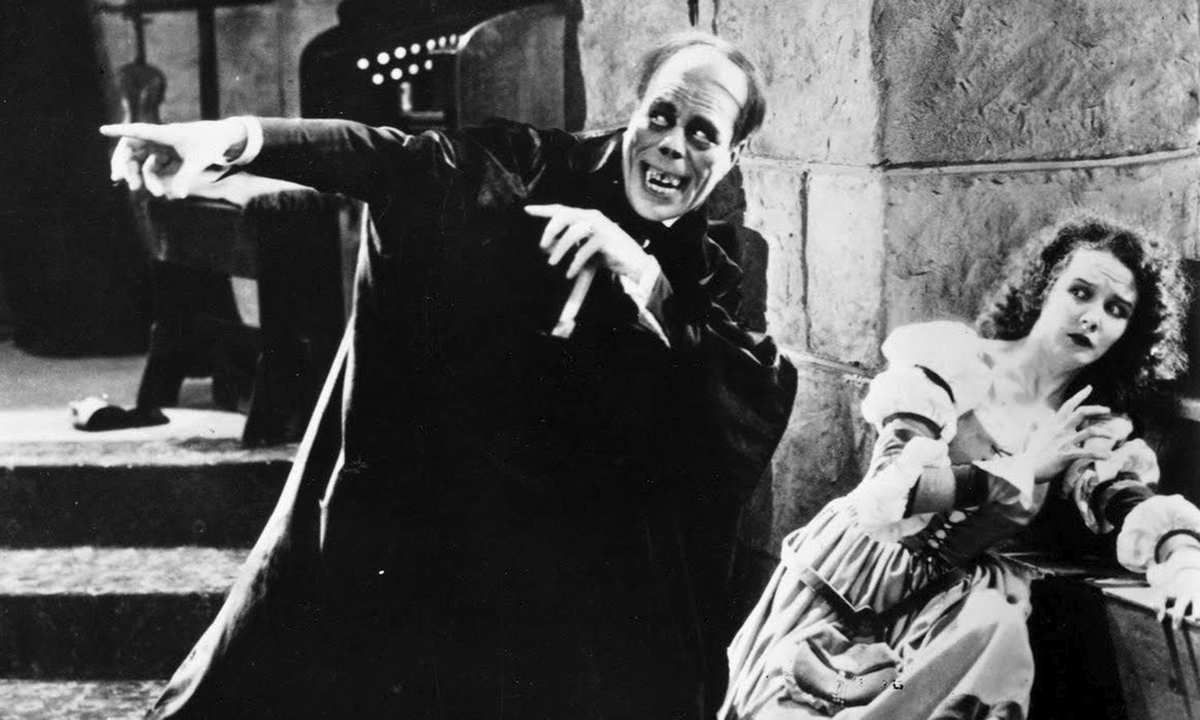 Lon Chaney was "the Man with the thousand faces".
Nevertheless, in this film, we have to wait for forty-five minutes before being able to see his made-up face. Before that, he wears a mask.
But it was worth waiting. We have rarely seen such a hideous face. There is ugliness, wickedness, but also despair in this face. This hideous face shows the hideous but tortured soul inside.
AS we do not always see his face, Lon Chaney uses his hands a lot. These are very expressive and help very much in the story.
What about the story?
There is a curse which struck the Opera Garnier in Paris. A ghost rules it. This ghost had the diva Carlotta (Mary Fabian) replaced by a young singer: Christine Daaé (Mary Philbin).
But since she has been promoted, Mary Daaé has troubles with the Phantom. She has to love him. But she cannot, she loves another man: Raoul de Chagny (Norman Kerry).
Once again, Lon Chaney plays a frustrated lover. Erik (the Phantom's name) - and later Alonzo in The Unknown (Tod Browning, 1927) - loves but is not loved back. And when Christine takes off his mask, we understand why. [Her disgust is certainly not faked: in an effort to give us a true effect of Mary's surprise - and disgust -, she discovered his face at this very moment!] One has to say that this face is quite disturbing: it is said that a few spectators fainted when they saw his face.
The use of colour is also very important in this film. A few filters are used - like in other movies: blue for the night, yellow for the sun... - but here, the ball scene was entirely shot in real colours. And thanks to the work of the great Kevin Brownlow (his name be praised!), we can now see a very good copy of this film and enjoy ninety-four minutes of Lon Chaney: no more fog, nor blur, nor any sign of film deterioration.
And the shadows...
Sometimes, we could think we are in a 1920s German movie. At first, the Phantom himself (itself?) is a shadow in a dark setting. And this shadow is scary enough to make the dancers flee with fear. We do not know if he really exists.
This is one of Lon Chaney's most significant roles. You cannot forget Erik, this evil angel, who is a sort of Mephisto's doppelganger in the Faust which is played in the Opera. Lon Chaney - just like in The Penalty - suffered a lot for this character: his nose bled and he used rubbers and small hooks to create this distorted face. But Chaney will be Chaney!
Despite his appearance, Erik is not a ghost. He is very human: he is in love. A desperate lover. Everything in his attitude shows his despair.
First, he thinks Christine loves him for what he has done to her. But then he discovers it is not true. She tells him she loves him - to save Raoul - but he realizes it is nothing but a lie. So he has nothing to lose anymore. And his final scene - the only possibility left for such an insane character - is full of despair.
And his last laughter rings us a last bell: "Humour is the politeness of despair."