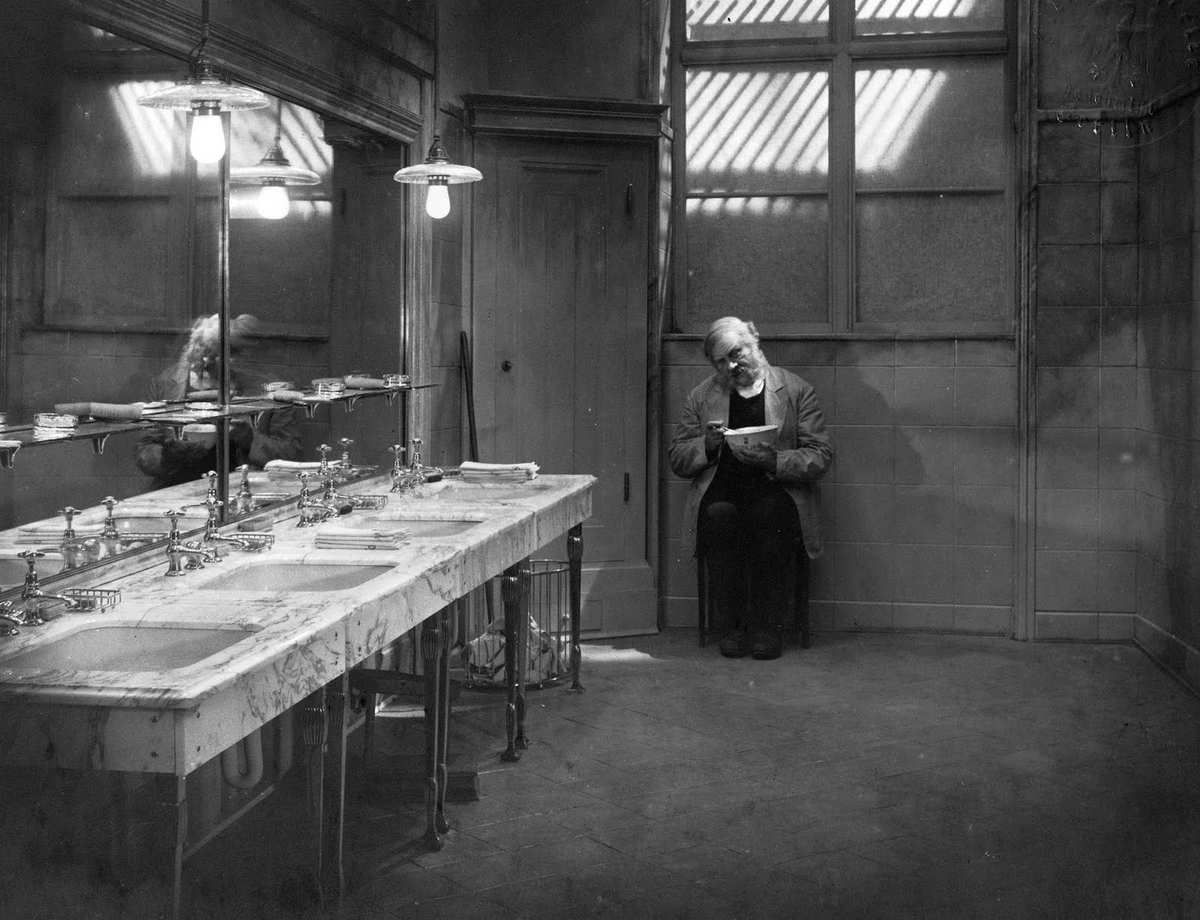 Friedrich Wilhelm Murnau's wonderful direction. Karl Freund's living camera. Walter Röhrig's half-expressionist settings. And Emil Janning's performance. Everything which makes this film unforgettable.
This is one of the greatest films of the silent cinema. Pure cinema: only images, no intertitles. Well, just two: to warn us at the beginning; to explain that the end was so depressing that they had to shoot another one. This is what we call a universal film.
It is also a very simple story: a hotel doorman sinks and becomes a bathroom attendant.
What makes this film great is the way this story is told.
We follow each level of the old man's downfall. This small and common story becomes a great classical tragedy. This man with his shiny costume is no ordinary doorman: he commands the army of the people receiving the customers in the hotel with his whistle. He is not a doorman, he is the Marshall Hindenburg!
But Time gets a grip on him. He is now a weak old man. He cannot carry suitcases like before. He is "degraded". He cannot wear his uniform anymore: it will rot in a cupboard. Now, he will look after the hotel bathroom, in the basement. Everyone in the hotel is above him: professionally and physically. He now has the lowest job in the hotel. Moreover, he sometimes has to crawl on the floor to clean it.
Now that he works in the basement, we can say that his job has become an inferno.
But one has to save the face: nobody must know what happened to him. Before coming home, he brings his old costume and wears it in front of his daughter and the neighbours.
Unfortunately, his secret is revealed and everyone mocks him. Even his daughter.
He cannot come back home.
So he stays in his bathroom, alone, forgotten. Maybe waiting for death.
This is the first ending. But as I said previously, the producers thought it was a bit too pessimistic (or was it too realistic?). So they shot another one.
I cannot believe in this new ending.